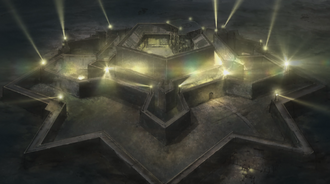 The Arizona State Prison (アリゾナ州立刑務所, Arizona Shūritsu Keimusho), also known as the Black Pentagon (ブラック・ペンタゴン, Burakku Pentagon), is a prison complex in Arizona state that is used to imprison exceptionally dangerous convicts that conventional law enforcement barely can handle them.
Description
[
]
The isolated cells for exceptional dangerous criminals are placed near the residence of Oliva to he can put a rein on them. Due to the nature of the prison, the guards are instructed to execute the prisoners without notice if anyone of them cross the line.
The prison also the place of residence of Biscuit Oliva where he serves as jailer and criminal dispatcher. The warden of the place is Michael Holes.
Gallery
[
]